Industrial and Commercial painters in Melbourne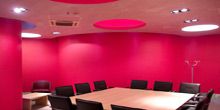 At Grand Mark VIC painters apart from specialized domestic painting we also undertake comprehensive commercial and industrial painting professionally and effectively throughout Melbourne. That's why popularly we go by the names commercial painter Melbourne and industrial painter Melbourne respectively. We are fully licensed, experienced and skilled in all aspects of commercial and industrial painting. We have EWP licenses scissor lifts and boom lifts that are used quite a lot for high/hard to reach places in the field of commercial and industrial painting work.
Commercial Painting Services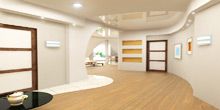 We are well equipped with the latest in technologies and advanced tools to give a result that will be second to none. Wecome up with various types of spray guns that significantly decrease the time taken for tasks to be done. We also have smaller but finer spray guns which are used for a mirror finish on steel work etc. We always pride ourselves on being the friendly & customer-centered commercial and industrial painter in Melbourne.
Our commercial painter in Melbourne is highly stuffed with the recent trends in fashion. Hence we will give you with the dazzling look to the outer world by our painting service.
Need of Commercial painting service with knowledge painters in Melbourne? Call Us RIGHT NOW.